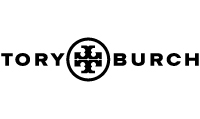 Tory Burch
Tory Burch is a brand of clothing, accessories and women's shoes, designed by the American fashion designer in 2004.
The designer's innovative collections are very popular in the U.S.A., especially fashion bags and accessories.
The designer creates a total look dedicated to women of all ages, offering affordable luxury.
The eclectic aesthetic of the brand gives life to brave and trendy outfits, unifying women's and men's garments, elegant dressing, evening dresses, informal pieces and clothing for the day.
Leggings with patterned prints, knit waistcoats, trench coats, men's cut jackets to wear on sequined dresses, snake-print silk dresses, trousers in neon orange, skinny-fit jeans with animal prints, denim skirts, leather lace-up shoes braided, dancers, clutches with stones and shark teeth necklaces.