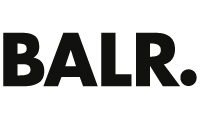 Balr.
BALR. is an international luxury lifestyle brand known for its high-end fashion, travel items and accessories for men and women.
The brand based in the Netherlands has designed a full range of high quality items that embody the life of a BALR.
That is, who can buy everything at any time. Founded in 2013 by Demy de Zeeuw, Juul Manders and Ralph de Geus, BALR. it is the perfect combination of a modern lifestyle brand.
Pretentious, focused and in sync with a young and ambitious audience, the company brings the luxurious lifestyle of extraordinary athletes within reach of anyone who works hard to live a dream.